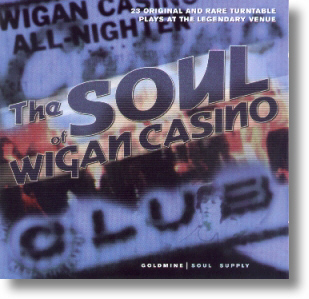 Various Artists – The Soul Of Wigan Casino – Goldmine – GSCD154.
So, is this a case of put Wigan in the title and it will sell syndrome ? Possibly, but having said that there are some great tracks here that have never been on CD before so it is a worthwhile purchase, it just doesn't seem to gel together as a CD as well as some of the other Goldmine things.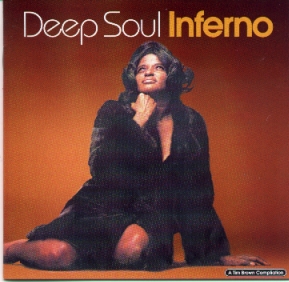 Various Artists – Deep Soul Inferno – Goldmine GSCD 145.
Tim Brown shows off his knowledge of the obscure and deep on this twenty one track CD. Extensive liner notes accompany this CD, which is helpful because I knew very few of these tracks prior to buying this. As with all deep Soul CDs, it all becomes a bit too intensive before the end, so I have to listen to them in stages. Tim's done well here, and this is a creditable addition to the Goldmine catalogue.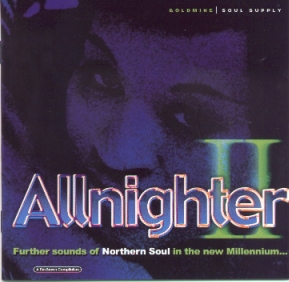 Various Artists – Allnighter II – Goldmine GSCD 150
Goldmine have managed ten years in the business, and 150 CDs, that really is an achievement to be proud of. So what have they offered up for the second instalment of the allnighter CDs ? A. C. Reed, Sherlock Holmes, The Four Tracks, The Constellations, The Volumes, Joe Douglas amongst others. Yes I'd say this one passes muster, it's not quite as strong as volume one, but you'd have to look a long time to find a better compilation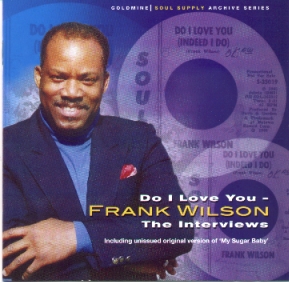 Frank Wilson – Do I Love You The Interviews – Goldmine GSCD 911.
This is different. Two interviews with Frank Wilson following the Togetherness weekender, one by Kev Roberts, and one by Richard Searling. Plus 'My Sugar Baby', a previously unreleased vocal by Frank Wilson. Curiosity value only really though.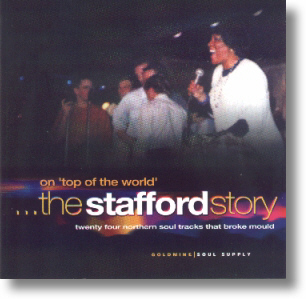 Various Artists - The Stafford Story – Goldmine GSCD 146
Finally my mate John Pugh's project comes to life. Believe me, if you knew how long John has worked on this CD you would be as relieved as I am that it's actually such a good one. What can I say ? Stafford, Top Of The World, probably had a more unique identity than any other allnighter before or since, so whilst John has gone for Stafford classic sounds you might be forgiven for thinking that some of the monsters are missing. Then again, do we really need Sam Fletcher on another CD ? John has chosen tracks that cover the whole Sixties and Seventies era, uptempo, instrumentals, latin, R & B. They are all here. The fabulous liner notes also complement the CD wonderfully. In fact the whole presentation is great, this must be Goldmine's best effort so far. I've only one complaint really: 'Peanut Duck', what on earth was that woman on ? By the end of the track she is virtually incoherent. That aside though, all credit for John for the CD, and not forgetting Kenny Onions who produced the original artwork, which then underwent minimal changes and became attributed to Dave Carne. If you haven't already bought this CD shame on you, go out and buy it now.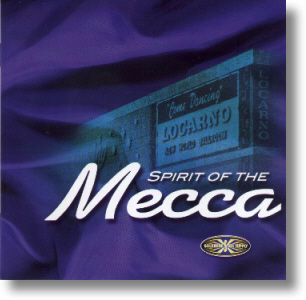 Various Artists – Spirit Of The Mecca – Goldmine GSCD 140
A selection of 23 tracks that were played at the infamous Blackpool Mecca during the later years of the reign of Ian Levine and Colin Curtis. I'll be honest and admit that I didn't know a lot of these tracks, and, again being honest, the vast majority of them did nothing for me. They are really just disco records which happened to be picked up and played at the Mecca. I know Ian Levine is planning a compilation of Mecca Sixties sounds, let's hope it's better than this rather disappointing collection. Sorry !.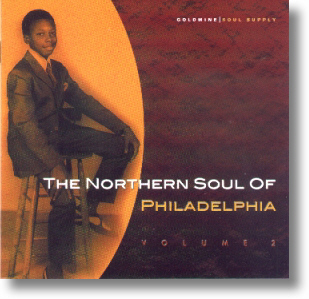 Various Artists – The Northern Soul of Philadelphia Volume 2 –
Goldmine GSCD 142 This is better. 27 tracks, several of which are previously unreleased (Although six tracks are duplicated from the Philly Soul import CD of last year). First up is the 'World Of Happiness' that Andy Rix has been hammering for the last year or so. The CD claims that the tracks is by Ann Robinson (No, not the weakest link one !), but Andy Rix assures me that this is not the case. However, the CD is not just one track based, there are several other strong tracks here and it really is an essential purchase.