THE RARE SOUL BIBLE, An A - Z of Northern Soul
By Dave Rimmer
Bee Cool Publishing ISBN 0-9536626-5-9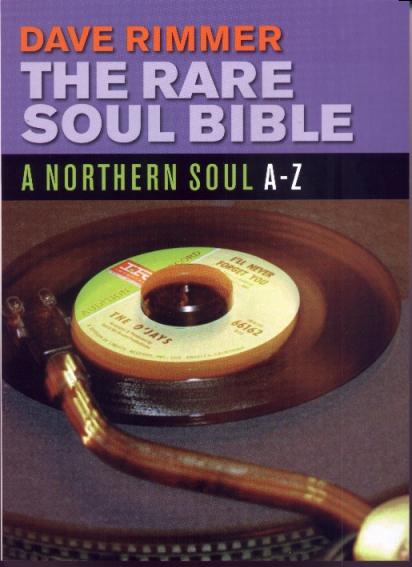 The Northern Soul scene has encompassed a wide range of musical styles; street corner Doo-Wop, through gritty R & B and sanctified southern Soul to driving, hard edged Funk.
Dave Rimmer, Northern Soul DJ and editor of the informative fanzine Soulful Kinda Music, has put together this exhaustive compilation, which catalogues thousands of 45s by artists who are connected (in some cases, often by just one release) to the scene.
Also included are previously unseen artist photographs taken by the author, label scans of over fifty rare Soul singles, biographies of over 25 artists, a year of venue reports, and Dave's forthright views of the contemporary Northern Soul circuit.
The Rare Soul Bible is a route map for the serious Soul vinyl addict.
Copies are £25.00, plus £1.80 postage (UK Price Only).
Postage to Europe Is £3.50, and to the USA is £6.50.
Further details on ordering a copy can be obtained by emailing the author here.
A Review by Dave Godin
The main reason Bee Cool Publishing has become the front runner in the field of specialised music publications is, in my view, due to the fact that they commission the right people to write books for them, and the results SHOW! There is no substitute for passion! Their latest book by Dave Rimmer carries on this fine tradition and is an encyclopedic compendium of 45rpm singles that have, at some time or another, found favour in terms of spins on the Northern Soul circuit. However, Dave hasn't just slavishly done label listings, but has arranged his entries by artist, which, as anyone who has ever compiled a discography knows, can be a mine-field with name changes, records being issued twice on the same label, or different labels, with different flipsides, and so on. Also too, as Dave himself makes clear in the text, any such work can never hope to be "complete" since a combination of rare records surfacing and artists' amnesia lifting, will often reveal hidden assets, hidden shame, hidden naughtiness, and, sometimes, hidden gems. Arranged alphabetically by artist surname, I was also pleased to see that some of Dave's excellent writing on the Soul scene has been included, particularly his valuable piece, the marathon titled, "Can 7-Inch 45rpm American Soul Singles Be Considered To Be Of Significant Historical Value? A Reasoned Argument". And of course, it goes without saying that they can, and Dave's reasons are compelling, sound and significant too! This essay alone is an essential read. Some artists have biographical information, but where this work is of particular value is with those footloose artists who record all over the place! Barbara Jean English is a good example, and here we have her listed not only in her own right, but with The Clickettes, The Rinky Dinks, The Avalons and The Fashions and all label name permutations in between! Again, if you take a name like Tony Middleton, it is amazing just how many records (with various label name credits) this guy has been involved in. And Ike Turner's various involvements cover more than eight pages! But just flipping through the book is like looking at a directory of old friends. And not just old friends who have made records, but our friends who spin them too, with club reports and various play-lists from those who have never given up on keeping the faith. Quite simply, this book is a must for anyone who has ever felt that thrill when the opening bars grab you, and you want to know more about whoever it was who has had the power to cast such an aesthetic spell upon you. And it proves too my oft repeat point that Black America quite simply managed to produce so many darned brilliant records that the market just couldn't absorb them all at one go. So, probably one of the most valuable services that the Northern Soul scene ever did was to get around to each and every one of them bit by bit, and spread the magic over several decades so that no worthy talent ever really got lost. Of course there is no substitute for the aesthetic rush that so many of these records deliver, but, once you've come down a bit, it's nice to know just who it was who was hitting on you so hard! And it's all here for the perusing. Great stuff. Dave Godin