Just click on any of the subjects below to find out about what the Magazine and Website is all about.
The Magazine

Latest Articles

Record Reviews

CD Reviews

Venue Reports

DJ Playlists

Events

Sales

Database

Links
The records reviewed are all original US releases, and have all, at some time been played in one of my DJ sets at various venues. The values are always subjective, but are normally based on either what I've seen the record for sale at recently, what I've been offered for my copy, or what I paid for my copy.

Jimmy Ricks – Oh What A Feeling – Festival 703 Demo.

Walking pace at it's most upbeat, this is probably the slowest song ever played on the Northern Soul scene. Jimmy Ricks first recorded in the Fifties and has several Doo-Wop releases to his name. This is almost Doo-Wop, but if anything is too slow for that genre. Atmospheric and Soulful are probably the most appropriate words to use to describe this track, and it's a very difficult one to play in a set, but pick the right venue, and the right moment to play it, and you'll have a full danceflorr. Current value in excess of £200.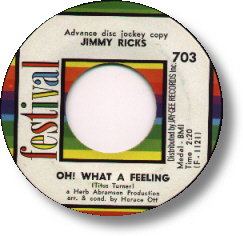 Jimmy Gilford – Nobody Loves Me Like My Baby – Thelma 2282.
The first visit to the Motor City. It won't be the last, I can assure you of that. This is another quirky Beat Ballad that really does take some beating. At one time on the Northern Soul scene records like this were regarded as much too slow, but now it's a different scene, much to our benefit, and this is one that can be played anywhere, although it has to be at the right point of the set. One of the earlier releases on the 'signpost label' this has remeained in demand as a collectors record for many years. Current value in excess of £100.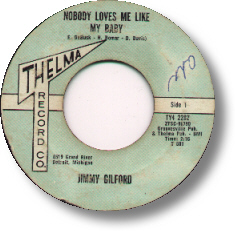 Bud Harper – Wherever You Were – Peacock 1932.
Uptempo R & B from the Lone Star State of Texas. One of many records from the Duke / Peacock stable that have made it big on the scene. As far as I'm aware Bud Harper nly had two releases on the label, both are good records but this is the one which established itself at the Top Of The World allnighters at Stafford. Co-written by Deadric Malone, which was one of the pseudonyms that label owner Don Robey used to claim some of the royalties and publishing on many of the label's releases. Current value in excess of £90.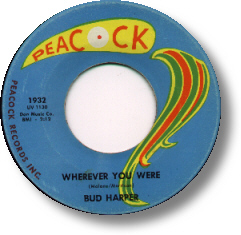 Sherlock Holmes – Standing At A Standstill – Part III 101.
I know nothing about the label (although it looks like this was the first release), or the artist. Even the writers credits are to Sherlock Holmes. What I do now is that this is another piece of midtempo magic from the Stafford era. Quite a rare record, and very hard to turn copies up, my copy came as a 40th Birthday present from John Mills. Thanks again John. Current value in excess of £140.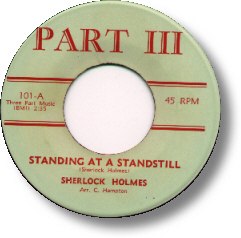 Johnny Mae Mathews – I Have No Choice – Big Hit 105.
My all time favourite (This year). An awesome, atmospheric, Soulful ender to end all enders. Unless someone else has already played it you'll always find me playing this as the last record in my set. Detroit through and through, Johnny Mae had involvement with so many artists in the early years of Soul music that it's nice to see her getting a little belated recognition from the UK Soul scene. Current value in excess of £500.