Page 3
The Accents - You Better Think Again - One-Derful 3100
Another fairly recent purchase for me on one of Harold Leaner's stable of Chicago labels, but this sounds so Detroit you wouldn't believe it. Hard driving dance Soul music that will always fill dance floors at an allnighter. Quite a hard one to pick up, certainly the hardest on the label, but I've seen three copies for sale in the last six months, so perhaps someone has found a box full. Difficult to price value wise, certainly in excess f £50, and seen as high as £150.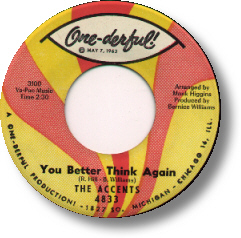 Jimmy Wallace - I'll Be Back - Alpha.
Onto a major rarity now that has always been one of my long time wants. Well thanks to a chance conversation at the Station Hotel, Mark Wills was persuaded to part with this copy. Mid tempo, rising to an urgent, pleading finish. Oh yes ! It\rquote s records like this that define the Northern Soul scene of today to me, they don\rquote t all have to be 100 mph out and out stompers anymore. Wonderful, wonderful record on a fairly small Philadelphia label that I'm only aware of two other releases on, although there must be more because this is number six. Current value, in excess of £600
Frank Foster- Harlem Rumble- Tri-Ode 120.
The actual name of the artist on this storming instrumental is 'Frank Foster' (Straight Ahead Rhythm Band), Introducing The Ghetto Sound, Introducing The Rhythm Battery Big Band Double Drive Beat' . What more can I say ! Try counting the number of saxophones in the record, you're bound to lose track. Originally a very late Wigan play, this came to prominence at Stafford Top Of The World, and then has had a new lease of Life at The 100 Club. Current value, in excess of £100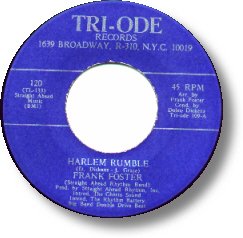 Troy Dodds - Try My Love- El Camino 701.
Another Stafford gem. Hammered over the last few years by several Midland DJs, including Ted Massey, Chris Anderton, and myself, it' s difficult to say how many copies there are around because of this. Certainly in the Midlands there are enough copies for you to be able to hear it regularly, but from DJing around the country I know that it's not he ard at all regularly elsewhere. I do know I have been offered ridiculously high sums to part with my copy, and I've turned them down because this will always be in my top ten. Current value, anything from £300 to £600.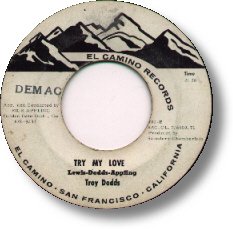 Celest Hardie - You're Gone - Reynolds R-200
A record that has become a huge floorfiller over the last couple of years. Certainly one of the biggest Crossover type of sounds ever this has shot from virtual obscurity up into the three figures mark very quickly. Apart from the releases on the recent Kent CD I know nothing about Celest Hardie except the fact that she sings her heart out on this one. In fact the Reynolds label is unknown to me apart form this release as well. Current value, in excess of £300.