Page 4
Betty O'Brien - She'll Be Gone -Liberty.
Originally played by Saus from Doncaster, then Shifty got a copy, and between the two of them they made this piece of thumping R & B a monster across the country. I eventually picked my copy up from Derek Pearson via Wilko. It's rumoured that Betty O'Brien is actually a Country singer, but there' s no sign of Country in this tune that still fills dancefloors nationwide. Current value in excess of £200.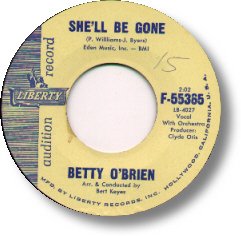 Delcos - Arabia - Showcase.
From R & B to straight Doo Wop, (but with a beat) you'd think this web site had nothing to do with Soul music !.That said this is another tune that has been filling floors since it was first played at Stafford' s Top Of The World Club. This is one of those records that periodically gets played again, and is currently undergoing another reactivation, hence it's become hard to track down. Current value around £25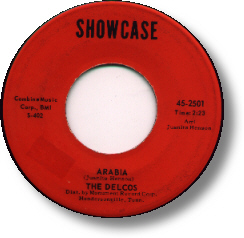 Della Reese - A Clock That's Got No Hands - RCA Victor.
One you either love or hate now, by a jazz singer ! Found in 1998 by John Pugh from Wolverhampton, he told me about it, we covered it up as Ketty Lester 'Love's Sweet And Glorious Past', and started playing it in the Midlands and all over the country. It eventually reached the stage where copies were changing hands for £100 and it was getting plays at nearly every major niter. A few more copies have now turned up so the price has dropped back to around £70.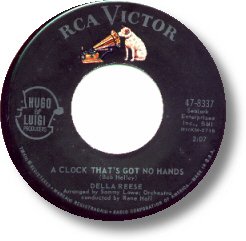 Dynamics - I Need Your Love - RCA Victor.
Straight Soul music now, no arguing this is an old style traditional Northern Soul stomper. Detroit uptempo Soul at it's best. It's had a long run now as a regular play at allnighters, and is perhaps becoming a little played out now. Funnily enough this shares the same backing track as 'Candle'(allegedly) by Doni Burdick which was one of the unreleased Detroit tracks found in the early Nineties. Current value in excess of £100.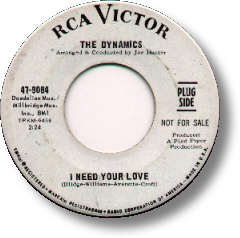 Enchantments - I'm In Love With Your Daughter - Faro.
Another awesome stomperoonie from the Stafford days. The lyrics tell a lovely story set above a really messy backing track that just careers along on it's own. I'm told that issue do exist, but I've only ever seen the light blue demos. I'll quite often start my DJ spot with this one because it just drags people onto the dance floor. Current value in excess of £70.